.
Rayvolt in Sotogrande exclusively from GMS
Rayvolt's philosophy is to develop and promote alternative forms of transportation by offering drivers a clean, high-tech and, of course,stylish option.
The name of Rayvolt derives from the English sun rays (sunray or ray) and the Electric Volt Unit. Together they form "Rayvolution" Going to work in style is our second priority, because electric mobility does not interfere with aesthetics. Rayvolt design unifies a vintage aesthetic with the latest technology creating a timeless vehicle with a lot of character
Trixie
Rayvolt hubs are a very complex brushless 3 phase dc motor comprising of 48 different copper coils and magnets that are placed on the outermost perimeter of the motor for the best possible torque.
More Acceleration More Response More Torque Less Noise Less Vibration Less Consumption
Have an unmatched capacity of 550Wh and 1100Wh – most of the industry uses 300 to 360Wh. Battery quality is linked to the cells used and also the way it is packed. Using a state-of-the-art battery management system in our packs, each cell is connected to it before delivering the charge. This high-tech design balances the charge between each individual cell and can cut the connection in case of a short circuit. This ensures best possible performance while making the battery safer.
The Eiva® is a Rayvolt's developed software to control, customize and monitor your Rayvolt bike.
An Eiva® computer can be purchased and secured mounted to the handlebars, ready to go whenever you are. The software can also be downloaded for use on an existing Android or iPhone.
1. Display 360º 2. Bluetooth bike status 3. iPas Monitoring 4. Settings 5. Music 6. Maps 7. Information
Intelligent Regenerative Brake System
We created an electronic braking system.The regenerative braking acts like an ultra powerful dynamo when the levers are pulled.
The intelligent iRBS is linked to EIVA's built-in gyroscope allowing the bike to detect the cycling environment. It then provides the necessary amount of regenerative brake according to the angle of the hill. iRBS paired with the cloud-based iTS allows you to remotely lock your rear wheel.
Julia GLADSTONE
CHILDREN & ADULT LESSONS Дети и уроки для взрослых
Tel: +34 606 365 367 www.ponyclubestepona.com SOCIAL ACTIVITIES КУЛЬТУРНО-ПРОСВЕТИТЕЛЬНЫЕ МЕРОПРИЯТИЯ
PONY BIRTHDAY PARTIES ДЕНЬ РОЖДЕНИЯ СТОРОНЫ С ПОНИ
GYMKANA & GAMES DAYS GYMKANA & ИГРЫ ДНЯ
EASTER & SUMMER COURSES DAILY OR WEEKLY COURSES ПАСХАЛЬНЫЕ И ЛЕТНИЕ КУРСЫ ЕЖЕДНЕВНО ИЛИ ЕЖЕНЕДЕЛЬНО
PONY CLUB
Y O U W I L L F I N D M E A T ESCUELA DE ARTE ECUESTRE COSTADEL SOL
Somos el medio con más años de experiencia y el primero con con una plataforma Online e Impresa
Truly the longest established and the first ever Online & Printed Media
Website
www.webexpressguide.com www.directorycostadelsol.com www.directorymarbella.com www.expressguidetv.com www.directorygibraltar.com
Web Express Guide
Directors/Admin
Julia H. Gladstone Sebastian Gladstone
Advertising enquiries:
0034 629 504 003 0034 674 726 897
Photography
Webexfoto
Contributors
Julia Gladstone, Elisabeth Da Costa Almirón The Prickly Pair, Sebastian Polinares, Chevalier De Fleuri, Daniel Rubio, Sebastian Gladstone, Ludovica C., Leslie Thomson, E. L. F. Fleri, Juan Emilio Ríos
FRONT COVER SPONSORED BY KLEENFREE MONACO
BY FAR YOUR ULTIMATE… ADVERTISING OPTION
SOMOS SU MEJOR OPCIÓN PUBLICITARIA
Publishers Webzine S.L. C.I.F. Nº B-93321081 under licence by E. Gladstone
WEB EXPRESS GUIDE © Sabinillas 29692 – Spain Tel: +34 952 891 773 Mobile: +34 629 504 003
Universal Copyright Registered © 2020 Edwin Gladstone
No material contained in this publication may be repro duced or published without the written consent of the publisher. No responsibility is taken for claims made by advertisers; nor are the views expressed in the editorial columns necessarily the views of the publishers.
Magazine Distribution Areas: MARBELLA – PUERTO BANUS – NUEVA ANDALUCIA SAN PEDRO – GUADALMINA – ESTEPONA – SABINILLAS P.N – GUADIARO – SOTOGRANDE – GIBRALTAR
You may also download a free copy of the magazine from our website at www.webexpressguide.com
You may share your own view on-line at the end of any article,your identity will not be disclosed unless you so request or you may send an email to the editor@webexpressguide.com.
PLEASE TELL ADVERTISERS YOU HAVE SEEN THEM IN WEB EXPRESS GUIDE. THANK YOU.
EDITOR PAGE
Is the Corona Virus man-made or is it not? This is still a question that remains unanswered. Regrettably the rate of infection has affected the whole world in every aspect.
After 3 months of inactivity we have suffered a substantial financial loss the same as every other company, except perhaps the supermarkets and undertakers.
From our point of view the consumers market is still here, and marketing and advertising are an essential part of every business, especially now. For this reason we intend to forge ahead and continue offering the best possible marketing and promotion service we can.
My only hope is that the gradual de-escalation is done sensibly and that no entry is permitted to visitors form countries that do not have the virus under control. I am sure we can all agree that it is best to safeguard the long term health of a nation rather than the short term needs of irresponsible politicians.
¿El virus Corona está hecho artificialmente o no? Esta sigue siendo una pregunta sin respuesta. Lamentablemente, la tasa de infección ha afectado al mundo entero en todos los aspectos.
Después de 3 meses de inactividad, hemos sufrido una pérdida financiera sustancial igual que cualquier otra empresa, excepto quizás los supermercados y las funerarias.
Desde nuestro punto de vista, el mercado de consumidores todavía est aquí, y el marketing y la publicidad son parte esencial de todos los negocios, especialmente en estos momentos. Por esta razón, tenemos la intención de seguir adelante y continuar ofreciendo el mejor servicio de marketing y promoción posible.
Mi única esperanza es que la de-exhalación gradual se haga con sensatez y que no se permita la entrada a visitantes de países que no tienen el virus bajo control. Estoy seguro de que todos podemos estar de acuerdo en que es mejor salvaguardar la salud de una nación a largo plazo en lugar de las necesidades a corto plazo de los políticos irresponsables.
BIKE
3.Rayvolt
COVER FEATURE
8.The Onsite COVID-19 solution
WHATS NEWS
14. Mis colaboraciones en Radio Municipal Manilva 28.Did you know that..? 44.Worried about the end of the World? 46.Rotary
FOOD
17.La Italiana Café 19.Sushi Panda 20.Havana Beach 22.Recipe: Oriental Style Marinated Salmon
HEALTH
30.A word of caution 32.Could we get rid of coronavirus without a vaccine? 34.Faecal testing for the detection of colorectal cancer 42.Beware of ticks
BUSIMESS
38.Working from home
ENTERTAINMENT
45.We are back play safe 48. Trendencias: Black Lives Matter 50. Trendencias: Sí amiga, a nosotros también nos rozan las piernas en verano 54.Movies 55.Games 56.Music
THE ONSITE COVID-19 SOLUTION
with additional other use benefits
Having Prince Albert of Monaco contracted and recovered from the corona virus very early at the start of the world epidemic, he made sure that his government explored, adopted and enforced the maximum possible precautions as advised by scientists.
Exclusive Distributor of KlenFree in Monaco & Worldwide Distributor of HygimoB
Corinne Lewin David Roux
Businesses everywhere were then presented with 3 obligations, namely how to satisfy the demand for existing clients, how to safeguard their own companies with a reduced activity level and how to protect the most exposed employees, namely the technicians-installers on building sites.
Mr Olivier SORI, the president and director of the SORI Company, in association with his sister Caroline, manage this aluminium joinery company established for over 3 generations in the South of France and this when it came to Olivier's mind the idea to fit his commercial vehicles with a device that satisfied the hygienic necessities on building sites.
After due deliberations, Olivier SORI instructed his floor shop to create from his design an item that resulted in the first mobile hygienic apparatus.
Just only 24 hours later, all their site vehicles were fitted with the first prototypes on their rear doors carrying a 5 litres jerry can of water, liquid soap, and hand towels. Through the daily use of this product, the technicians became passionate with the product and showed interest even beyond the Covid-19 constraints.
This is when, several questions arose. As the employees of SORI unanimously adopted this tool, could other companies also be interested?
And if so, how to develop a complete health and safety solution for itinerant and site staff and especially how to market it? With this in mind, Olivier created a more mature and industrial version of the product that has resulted in the "HYGIMOB" of today.
At this point, Olivier approached Mr Gilles DARELLIS, a long-time friend and expert at developing and managing commercial networks, and suggested he should join him in the commercial and technical development of this product. "HYGIMOB" was the first name that came to GILLES's mind when producing the first commercial documentation.
DISTRIB. SPAIN
EXPORT LINK SL Ctra de Cadiz. C.C. Montebiaritz Loc.14 A.
Estepona
+34 669 93 56 33
The brand is created and the adventure begins for the two partners…! In June 2020 the company SDTECH "Société de Développement Techniques" is founded and the first HYGIMOBs are produced in series from a factory based in the south of France.
The first distributors are now contracted, and with the unanimous support for the product, sales have now developed in the French market which is showing a growing interest.
Simultaneously Olivier SORI presented the product to two of his Monegasque friends, Mrs. Corinne LEWIN and Mr. David ROUX.
They were won over by the idea, especially Corinne, a proud defender of Monaco and what it stands for, who saw the benefits of introducing this product to complement the measures taken by the Principate and SOWIN, their company, became the exclusive distributor in Monaco.
They decided to name the product for MONACO "KleanFree" and to colour the product in red and white like the Monaco flag. In fact the gadget can be supplied in any company colour as desired.
The product is now launched, what now remains is to convey the idea and switch to long-distance running mode. Product developments and the creation of a full range are already under development.
Always moving on and in reflection, this is the leitmotif of the two founders, OLIVIER and GILLES
KleanFree
The Mobile Covid-19 hygiene
WORKERS PROTECTION
WITH YOUR MOBILE DISINFECTING TOOL
WATER MASK GLOVES PAPER HYDROALCOHOLIC GEL
ALL IN ONE
DISTRIBUTOR OFFICIAL MONACO
sowin.monaco@protonmail.com
Villa Les Gaumates 1 bd Princesse Charlotte 9800 Monaco
+33 640 611 605
Be immersed in sound and vision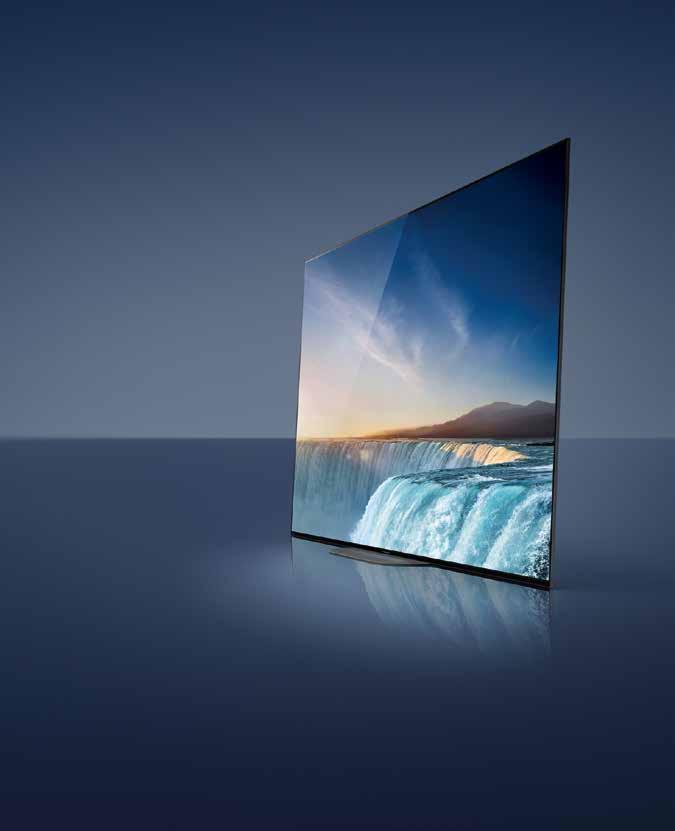 The new BRAVIA OLED AG9, with Picture Processor X1 Ultimate and Acoustic Surface Audio+. Superbly realistic picture quality meets cinematic sound design for a truly immersive TV experience.
'Sony', 'BRAVIA' and their logos are registered trademarks or trademarks of Sony Corporation. All other logos and trademarks are the property of their respective owners.
ELITETRONIC Ctra. Nacional 340 km. 135 www.webexpressguide.com LEAVE YOUR COMMENTS ON OUR BLOG ONLINE AT FOOT OF ARTICLES Elitetronic Since 1982 11312 SOTOGRANDE 956 615 694