.
Rock Conciergerie is the result of two very well-known Montecarlo companion entrepreneurs joining together to provide a unique elite service for clients seeking a reliable and confidential assistance in any aspects of their needs.
Corinne Lewin, daughter of Henri Lewin, one of the great antiquarians of Paris, along with her two sisters Delphine and Beatrice and brother Bruno, were brought up in an environment dedicated to the arts. The result is that all three have benefited from their father`s heritage to form a joint involvement between Paris and Montecarlo. As a matter of fact, Bruno, the brother, took over his father's activity, and is now located at Marché Paul Bert, stand 155, St. Ouen
Corinne has followed her love for the arts throughout the world in the company of David Roux for his invaluable advice in décor and purchases of contemporary art pieces. She is even well known in the exclusive circles of Marbella.
Corinne's companion, David Roux, has also dedicated his last 30 years to the motor car, acquiring a unique expertise in vintage cars, This comprises their restauration as well as the personalised searching of prestigious motors all over the world: the reason why why WinCars of Monaco deals with the import and export of motor cars.
His other business, So Win of Monaco, is a coordinator of building sites with connections to all professionals relating to the construction sector. Due to the established experience in the manufacture and installation of aluminium joinery, the company is currently experiencing and responding to a boom in requests from the most demanding architects, design offices and project owners.
So Win, also a benchmark partner of the SCHUCO brand in the Bouches du Rhône, is therefore specialized in the installation of very large glazing to satisfy the requests of prime contractors of buildings and villas. Complex projects such as facadescurtain wall, glued angle glass, canopies, entry airlocks, verandas, body guards … all are created in close collaboration with professionals.
Corinne and David, two individuals well known in Monaco for their expertise and integrity, have therefore decided to join forces and form Rock Conciergerie of Montecarlo, a conciergerie distinct from all the others, one to provide a service to
8 an Elite and dynamic, international clientele. A personal service available in all four corners of the planet for individuals and for companies.
Monaco is the international capital of luxury, it is famous for its high-end casinos, its palaces, its marina filled with yachts and its prestigious Formula 1 Grand Prix.
The concept is that you can ask for anything you may need and the answer would be immediate and the response to every request is designed to achieve a satisfaction beyond its expectation. This is because our aim is to establish a long term relationship with all our clients and private members.
What is most important is that ROCK CONCIERGERIE MONTECARLO will provide the highest level of discretion at all times.
It would be impossible to list every possible imaginable request that we can provide full satisfaction for; you may just want to find accommodation be it a hotel or a private villa, you may wish to hire a super luxury car or just a luxury limousine with chauffeur. Perhaps you prefer to buy or rent a yacht, or need to hire a plane or a helicopter to attend that urgent meeting.
Alternatively you may just want us to provide and organise your visit at the famous Casinó, or a body guard, for protection or a visit to an exhibition.
What if you just want to have a meal and invite guests in the privacy of your hotel or villa with your own Russian or Italian Chef? Or just arrange a meal at a restaurant?
On the other hand you may be more health orientated, seeking sports coaches, physical trainers, masseurs, dieticians, etc. We have the availability of renowned graduates on 5 continents.
Whatever you need, whatever your wish you can always rely on ROCK CONCIERGERIE of MONTECARLO to fulfil your utmost desires.
A service to an Elite and dynamic, i n t e r n a t i o n a l c l i e n t e l e with the highest level of discretion at all times.
C r e a t e d f o r w h o m t i m e i s m o n e y and can afford to save time
Be immersed in sound and vision
The new BRAVIA OLED AG9, with Picture Processor X1 Ultimate and Acoustic Surface Audio+. Superbly realistic picture quality meets cinematic sound design for a truly immersive TV experience.
'Sony', 'BRAVIA' and their logos are registered trademarks or trademarks of Sony Corporation. All other logos and trademarks are the property of their respective owners.
www.webexpressguide.com LEAVE YOUR COMMENTS ON OUR BLOG ONLINE AT FOOT OF ARTICLES Elitetronic Since 1982 ELITETRONIC Ctra. Nacional 340 km. 135 11312 SOTOGRANDE 956 615 694
Julia GLADSTONE
CHILDREN & ADULT LESSONS Дети и уроки для взрослых
Tel: +34 606 365 367 www.ponyclubestepona.com
SOCIAL ACTIVITIES КУЛЬТУРНО-ПРОСВЕТИТЕЛЬНЫЕ МЕРОПРИЯТИЯ
PONY BIRTHDAY PARTIES ДЕНЬ РОЖДЕНИЯ СТОРОНЫ С ПОНИ
GYMKANA & GAMES DAYS GYMKANA & ИГРЫ ДНЯ
EASTER & SUMMER COURSES DAILY OR WEEKLY COURSES ПАСХАЛЬНЫЕ И ЛЕТНИЕ КУРСЫ ЕЖЕДНЕВНО ИЛИ ЕЖЕНЕДЕЛЬНО
PONY CLUB
indrone_publi
INTERIOR DRONE VIDEO SPECIALIST
A UNIQUE NEW SERVICE BY
INDEPENDENT UPHOLSTERER, CURTAINS & LOOSE COVERS MAKER
Re-upholstery and repair of sofas, armchairs, dining chairs, headboards, bar seating, office furniture, seating repairs, framework repairs, new cushion interiors, curtains and lace curtains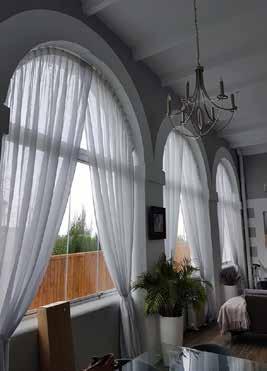 ATTENTION IS IN THE DETAIL AND THOSE FINISHING TOUCHES CAN HELP ACHIEVE THE ULTIMATE TRANSFORMATION.
Call Sharon: +34 956 641 029 / +34 678 107 492 Take-a-chair Email: sharoncordell@hotmail.com
IT PAYS TO BUILD YOUR OWN PROPERTY WITH MATECNO
A complete Construction Management from simple home improvements
BUILD YOUR OWN HOME BUILD YOUR OWN BUSINESS
BUILD YOUR APARTMENT BLOCKS IMPROVE YOUR PROPERTY
BUILD YOUR OWN VILLA BUILD YOU OWN EXTENSION
Over 25 years of experience
Are our guarantee & commitment as professionals in our sector
IT PAYS TO BUILD YOUR OWN PROPERTY WITH MATECNO
A complete Construction Management from simple home improvements to large building projects
IT'S WHAT WE DO!
O Check the Feasibility of Each Project
O Financial & Economic Viability Study
O Investment Analysis & Project Financing
O Planning & Building Permissions
O Processing of Licenses & Permits
O Building Budget Controls
O Daily Building Cost & Time Controls
O Daily Monitoring and Quality Control
O Marketing Collaboration
THE ALTERNATIVE CAN BE VERY COSTLY